... but most times not. Although, every once in a while I come up with a clever fix for the inconveniences in my house.
Both of my problems are related to electrical. I can change out a light switch or electrical outlet, but I don't tackle anything more than that. I needed a cheap fix that didn't require an electrician.
Case in point: my living room has no light switches. Sure, I could just turn on the lamps with the switch on the cord. But it was a hassle because the "on/off" was actually located behind the entertainment center. Plus, there are two of them to deal with.
The other lamp is on a timer. Just to distract you for a moment... isn't the capiz lamp gorgeous? Originally $60 but snagged for $11 on clearance.
Rather than spend the money on hiring an electrician, I bought a $15 receiver that plugs into the electrical socket. I plug the lamps into the receiver and an itty bitty remote controls the lights.
Pretty nifty, eh? Kind of like "
The Clapper
" but not so 1984.
The remote isn't your only option. It also comes in a
remote light switch
. It looks like a regular light switch plate. But it's not. You just screw it anywhere into the wall. Viola!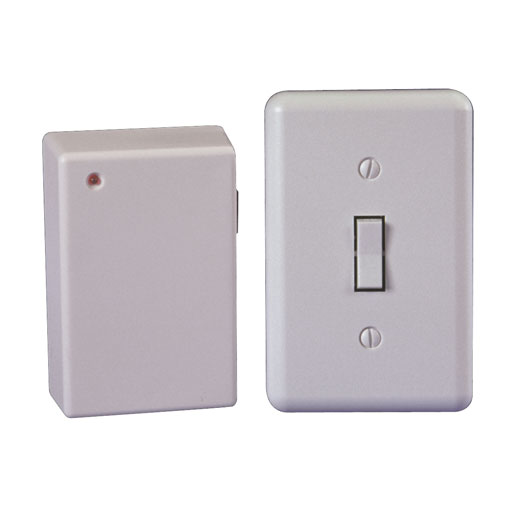 Next up was my mudroom, which only has one light switch. It is a small room that is sandwiched between the garage door and the kitchen door. Since there is only 7 feet to cross between the doors, why should you even need to turn on a light? It
could
have something to do with the 14 pairs of shoes strewn about. I would love to able to turn on the light when I enter the room, cross the tornado of shoes, exit the garage door, and turn off the light behind me. My failed solution: a nightlight. No amount of light was enough to see in that pitch-black room. My next solution: a
motion-detector light switch
!
The sensor coverage is 150 degrees. Not bad! It also detects motion up to 30 feet away. That's not all, folks! It will automatically turn off after your desired amount of time of inactivity. We set it at 1 minute to save electricity. (After all, when I'm in the room, I'm usually moving.) It also has a customizable sensor so that the light will not turn on if it detects enough daylight. The mudroom has a window and a door with glass inserts. It's bright during the day but just too dark at night. For $15, I don't have to worry about twisting my ankle anymore. Worth it to me.